What is KIDNEY FAILURE
KIDNEY FAILURE
In order to understand  kidney failure, it helps to know how the normal kidneys look and work.
THE KIDNEYS
The kidneys are a pair of bean-shaped organs, each about the size of a fist. They are located in the abdomen toward the back, normally one on each side of the spine.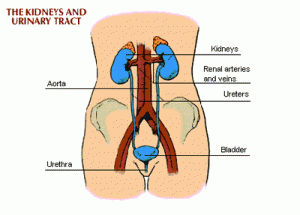 The kidneys' main job is to filter blood and help the body get rid of excess water, salt, and waste products. Your kidneys also help balancing levels of electrolyte levels in the body, controlling blood pressure, and stimulating the production of red blood cells.
We have 2 kidneys, but a person can live with less than even one complete kidney. Some people live without any working kidneys at all (kidney failure). Their blood is filtered by a machine in a process called dialysis.
ACUTE KIDNEY FAILURE
Acute kidney failure is a condition where your kidneys suddenly stop working.
There are 3 major causes of kidney failure , such as:
A sudden, serious drop in blood flow to the kidneys. Heavy blood loss, an injury, or a bad infection called sepsis can reduce blood flow to the kidneys.
Damage from some medicines, poisons, or infections. People who have serious, long-term health problems are more likely to have medicines for long term use which may affect the kidneys :
             –  Antibiotics, such as gentamycin and streptomycin.
             –  Pain medicines, such as aspirin and ibuprofen.
             –  Some blood pressure medicines, such as ACE inhibitors.
             –  The dyes used in some X-ray tests.
A sudden blockage that stops urine from flowing out of the kidneys. Kidney stones, a tumor, an injury, or an enlarged prostate gland can cause a blockage.
KIDNEY FAILURE SYMPTOMS
Acute kidney failure often does not cause symptoms that you notice.
When symptoms do appear, they may include:
Swelling, especially of the legs and feet.
Little or no urine output
Thirst and a dry mouth.
Rapid heart rate.
Feeling dizzy when you stand up.
Loss of appetite, nausea, and vomiting.
Feeling confused, anxious and restless, or sleepy.
Pain on one side of the back, just below the rib cage and above the waist (flank pain).
Diagnosis of kidney failure is confirmed by blood tests measuring the buildup of waste products in the blood: BUN (blood, urea, nitrogen), creatinine, and GFR (glomerular filtration rate) level.
KIDNEY FAILURE – RISK FACTORS
Some people have a greater chance of getting kidney failure over time. People with higher risk of kidney failure, are:
Elderly people.
People with chronic disease such as liver disease, diabetes, high blood pressure, heart failure, or obesity.
People who undergo heart/belly surgery or bone marrow transplant.
Compiled by: wordpress/kidney
Source:
http://www.cancer.org/Cancer/KidneyCancer/OverviewGuide/kidney-cancer–adult–renal-cell-carcinoma-overview-what-is-kidney-cancer
http://www.southerncross.co.nz/Portals/0/Group/Kidney%20stones%201.gif
http://www.medicinenet.com/kidney_failure/article.htm#tocc
http://www.webmd.com/a-to-z-guides/acute-renal-failure-symptoms
http://www.webmd.com/a-to-z-guides/acute-renal-failure-topic-overview